J.H. Wagner & Sons offer extensive experience and recognised best practice methods for repairs and restorations of all forms of memorials including War Memorials and Public Memorials. JHW provides restoration including inspection reports, conservation and maintenance reporting, maintenance programming, cleaning, renovation, replacement, relocation, inscription additions, graffiti removal, indent repairs, removal of environmental disfiguring and repairs.
Greenmount War Memorial - successful in tender to Toowoomba Regional Council to complete cleaning works, removal and replacement of marble panels to replicate deteriorated panels, re-instatement of jointing and drainage repairs. (2016)
Coolangatta War Memorial - upgrades to the parkland area at Coolangatta necessitated the dismantle and re-instatement of the sandstone and marble memorial. Using specialised techniques, J.H. Wagner & Sons undertook the works with ease and precision. In unusual circumstances, this was the third move in the memorial's history.
Surat War Memorial - cleaning, jointing repairs, tightening and repair of lead lettering and re-paint of concrete step surrounds. When undertaking this type of work, J.H. Wagner & Sons' stone masons photograph and detail any potential condition issues to assist with ongoing care and maintenance.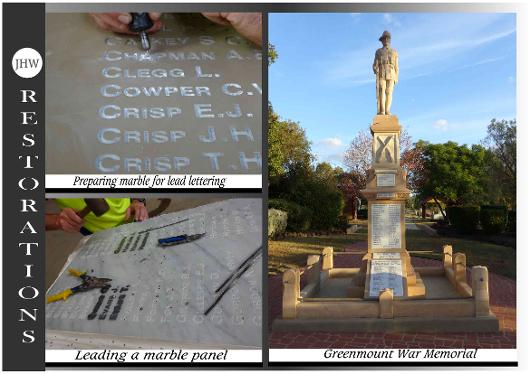 Like to see more...
ANZAC Centenary Eastern Suburbs, Ipswich
Chinchilla RSLA War Memorial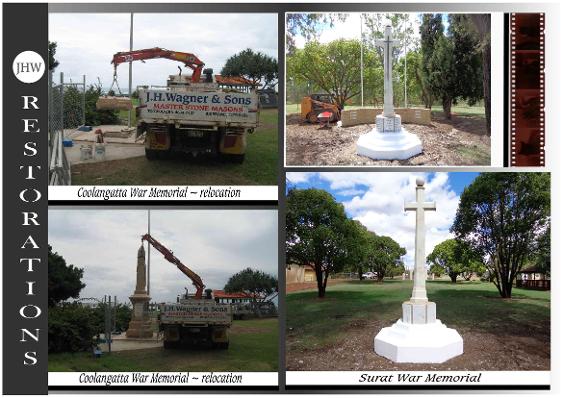 Goombungee War Memorial - successful in tender to Toowoomba Regional Council to complete cleaning works, removal of paint from foundation and step areas and re-instatement of jointing. (2016)
Inglewood War Memorial - cleaning of the sandstone spire, sandstone capping block, sandstone die block, marble honour roll panels, sandstone base stones and sandstone post surrounds by J.H. Wagner & Sons in a joint project with Goondiwindi Regional Council.
Westbrook War Memorial - Centenary of ANZAC funding permitted the aged Westbrook WW1 Memorial to be dismantled, restored and re-positioned into an improved location at the Westbrook Hall grounds. J.H. Wagner & Sons undertook the removal works, restoration of the die block with replacement of vandalised honour roll incised lettering, cleaning, scabbard replacement to the Digger statue and repairs to previously damaged foot area of the statue. Completed in 2016.
Maclagan & Quinalow District War Memorial - painting of natural stone is most often a major contributor to damage of the stone and unfortunately the perhaps good intention of previous works to the monument and gate posts were completed with a paint brush rather than experience. J.H. Wagner & Sons provided works of paint removal, cleaning, jointing repairs and re-fixing of gate posts. Toowoomba Regional Council has demonstrated a keen awareness of the financial, emotional and historic value of the region's war memorials and facilitated the completion of this work in 2016.
Freedom Aged Care, Toowoomba
Glenvale State School War Memorial
Hatton Vale Family Stone
Hungerford War Memorial
Lowood Memorial Grove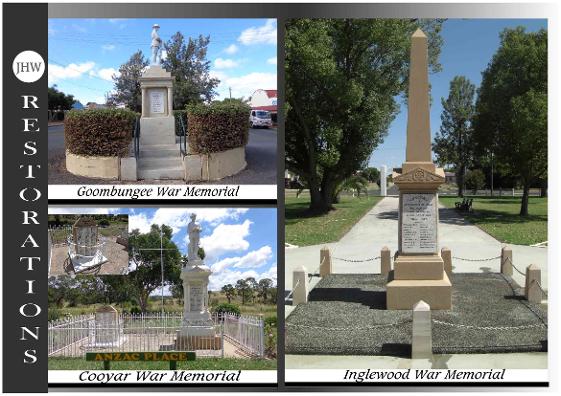 Mothers Memorial Gardens Toowoomba
RAAF Ground Defence Memorial, Amberley
RAAF Memorial Leyburn
Redlands RSL War Memorial & Bronze Dog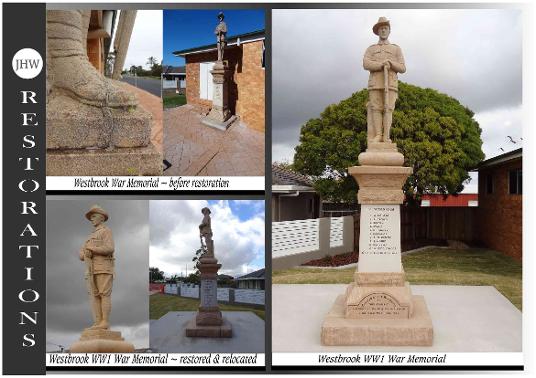 Toompine War Memorial
Vietnam Memorial Gatton, Long Tan Cross
Wellcamp State School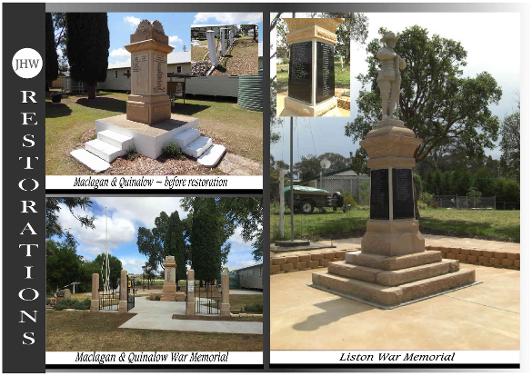 Liston War Memorial - located in Queensland, near the border of New South Wales the town of Liston boasts an impressive War Memorial complete with fully carved sandstone Digger statue, pediment cap, profiled capping stone, tapered sandstone die block, sandstone bases and steps. J.H. Wagner & Sons provided cleaning works, supply of Black granite panels for Honour Rolls and our 'Generation Etch' laser etched lettering for inscriptions.