Wallumbilla War Memorial supplied and installed by J.H. Wagner & Sons 2012.
Manufactured as a free-standing blade wall, the Wallumbilla War Memorial consists of three large wall slabs of polished Black granite with gold incised Wreath tracery, gold incised letters and Poppy traceries on the front face and plain incised (natural incised) sandblasted letters for First World War 1914 - 1918 Honour Rolls on the back face. J.H. Wagner & Sons has also serviced Western Queensland with War Memorials at Chinchilla, Roma, Mitchell, Charleville (Digger Statues), Yaraka and Yuleba.
Like to see more ...
Albury RSL Granite Digger Soldier Statue
ANZAC Centenary Eastern Suburbs Ipswich
Bundamba War Memorial
Chinchilla RSLA War Memorial
Coolangatta War Memorial
Cooyar War Memorial
Crow's Nest War Memorial
Esk WW1 Memorial
Emu Gully ANZAC Memorial
Freedom Aged Care, Toowoomba
Glenvale State School War Memorial
Goombungee War Memorial
Greenmount War Memorial
Hatton Vale Family Stone
Hungerford War Memorial
Inglewood War Memorial
Liston War Memorial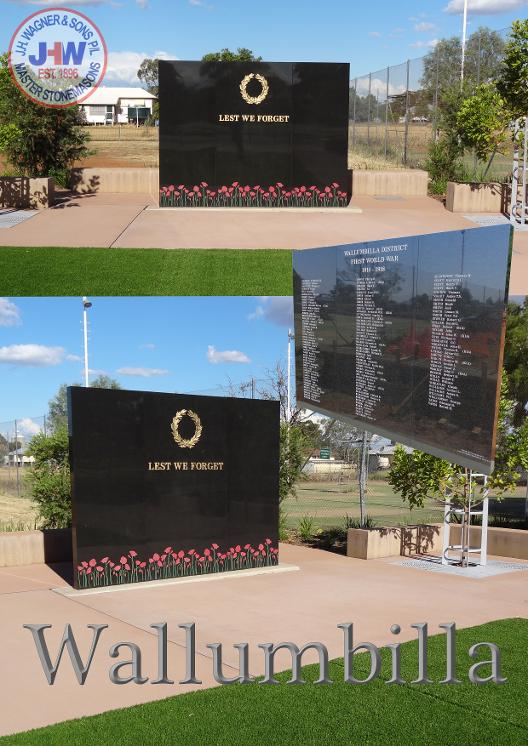 Lowood Memorial Grove
Maclagan & Quinalow District War Memorial
Mothers Memorial Gardens, Toowoomba
Naval Memorial Moreton Bay
Pallamallawa War Memorial
Pittsworth RSL War Memorial
RAAF Ground Defence Memorial, Amberley
RAAF Memorial Leyburn
Redlands RSL War Memorial & Bronze Dog
Rosewood War Memorial
Surat War Memorial
Thallon War Memorial
Toompine War Memorial
Toowoomba Police Memorial
Vietnam Memorial Gatton, Long Tan Cross
Wellcamp State School
Westbrook War Memorial
Woodend War Memorial