Flood Memorial ~ Toowoomba Region, manufactured by the locally owned and operated J.H. Wagner & Sons.
The Queensland floods of December 2010 ~January 2011 and in particular Monday afternoon 10th January, 2011 had devastating impact in regional centres, homes, businesses, rural properties, the Toowoomba city centre and neighbouring areas of Queensland with the tragic loss of life, injury and property damage.
In reflection of these events, respect of each individual tragedy, praise for the dedication of community and long term encouragement for those affected by the Summer of extreme weather a Flood Memorial is now located in Margaret Street Toowoomba.
Acknowledging and remembering the extreme weather events of January 2011 in Toowoomba and the surrounding region holds significant importance to the community. Toowoomba Regional Council and J.H. Wagner & Sons jointly designed and facilitated the installation of a permanent event marker, A Stone of Hope as the regions' Flood Memorial. A project brief was established during an initial meeting on 5th December 2011 and was maintained in the approach to memorial design, processing and ceremonial unveiling which determined the memorial would be made from local stone; the memorial was for the entire community and the dedication text would respect without individual identification the tragedy, loss, sacrifice, togetherness, mateship, determination, courage and hope.
Toowoomba Coral granite, quarried in the Crow's Nest area forms the marker stone, standing approximately 2500mm high and providing a shaped and contoured finish to the southern elevation and sides depicting the impact of water on an immovable object. Ripple lines, indents and water flow marks were achieved using diamond sawing and bushhammering of the granite. The front face or northern elevation of the stone has an exfoliated (flamed) finish with antique brushing to allow for a textured finish while highlighting the beautiful natural colour of the Toowoomba Coral granite. A Black granite dedication panel has been recessed into the front face and provides the dedication text in laser etched letters with a 'Generation Etch' laser etched photo image capturing the flooding in full force.
To coincide with locational site works by the Toowoomba Regional Council a very short production time of 10 working days was necessary to allow for the stone to be installed by JHW staff on Wednesday 21st December 2011.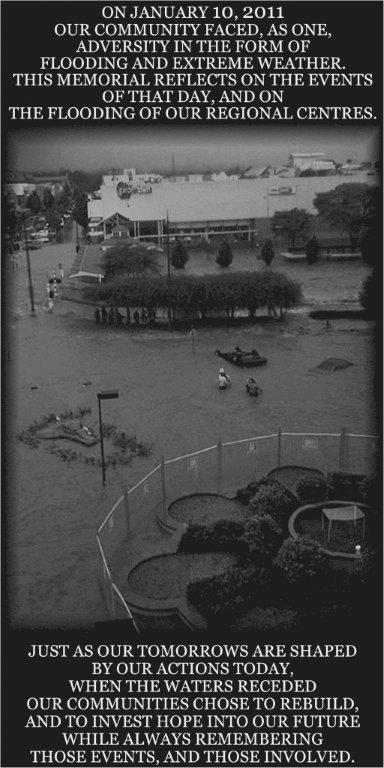 Our company was honoured to be involved in this memorial and is greatly appreciative of the opportunity to give something back to Toowoomba and the surrounding regions.
Queensland Premier Anna Bligh performed the official unveiling during the evening of Monday 9th January 2012, marking one year since the impact of devastating flooding.