Upright Headstones supplied by J.H. Wagner & Sons.
The service from J.H. Wagner & Sons in providing your headstone needs is based on offering the best range of choices combined with caring and professional assistance. We recognise the vast display of headstones shown on this website and at our Toowoomba office display may seem to make the options endless and to help with the best selection we welcome your visit and enquiry. Most importantly, the way in which the headstone will remember your loved one is always our priority. J.H. Wagner & Sons offer upright headstones in Granite, Sandstone and Marble with features including shape selections, colour range and tracery designs. JHW will also manufacture to your own custom design. Our staff look forward to assisting you with Cemetery requirements and making your selection as easy as possible.
*Appointments for monumental enquiries may be made by contacting the Toowoomba office - 4634 7422.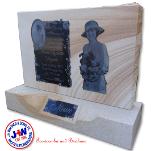 or contact our office for your