J.H. Wagner & Sons provide and install all forms of monumental works to an extensive area of South-East Queensland, South-West Queensland and to northern areas of New South Wales. Working from our Toowoomba head office and factory allows our highly qualified monumental stone masons to cover installation in areas such as the Gold Coast, Kingaroy and surrounds, Brisbane, Gatton and Laidley districts, Goondiwindi, Roma, Mitchell, Charleville, Taroom, Wandoan, Toowoomba and many surrounding towns and cities in our supply to over 100 Cemeteries. We also offer the opportunity to purchase monumental components directly from factory.
J.H. Wagner & Sons is continually striving for improvements in workplace safety and best practice methods and 2011 has seen the implementation of what we believe is a major leap forward in this area for our monumental works. We are pleased to introduce our new initiative of a custom manufactured loader and monumental truck.
Significantly, the improvements with this loader and our truck are:-
1) Better management of safe lifting limits for employees. Cranes are mounted on both the truck and the loader with hand held remote control operators pendant and certified lift apparatus specifically applicable to lifting of sandstone and granite.
2) Better task ergonomics for employees. A custom manufactured truck body has been designed to minimise any lifting, provide secure storage of equipment and tools and allow for easy of access for materials such as sand and gravel.
3) Better site management and access. In choosing this loader for use in the Cemeteries we have selected a machine which can be driven between the rows of monuments or within the width of a standard cemetery plot and eliminate the need for workmen to lift and carry headstones and monument pieces from the truck to the plot. The loader is equipped with crane, jib attachment, bucket attachment, fork attachment and cement mixer attachment to allow each of these tasks to be carried out efficiently and safely. Safety equipment has not been overlooked and the loader has a Safety beacon, reversing buzzer, Queensland Transport registration, safety cones and full insurance.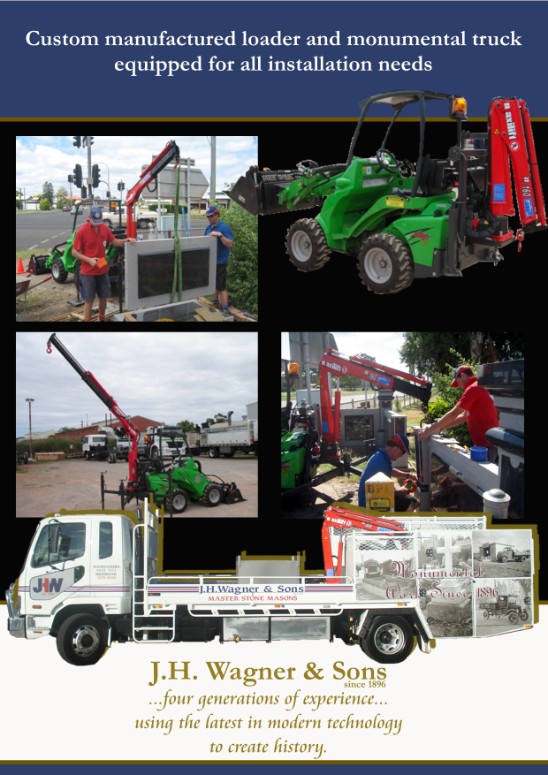 The ability to 'get the job done' with less physical stress on our stone masons also provides improvements in fatigue management and job site cleanliness.
4) Machine selection for task. A major consideration in selecting the loader was the use on grass areas. Our decision was to purchase an articulated loader so that the machine will turn rather than 'skid' across the ground surface. Our machine needed to be suitable to use on manicured grass areas of lawn Cemeteries and trials of track and skid steer type machines failed in this area as their operation resulted in tearing and damaging the grass. Use of our loader on neatly mowed grass is equivalent to the use of a large mower and therefore very successful in all areas of the Cemeteries and public parks.
We see these improvements as being the introduction for industry best practices for all monumental works and hope to encourage other suppliers to follow this example and for administrators to set this example as the required standard.