To enjoy the benefits of granite paving while creating an interesting and aesthetic design to your landscape, JHW is pleased to offer Autumn Yellow granite CrAzY Paving in free-form random shapes, or Light Yellow Granite pattern crazy paving. Granite paving provides low maintenance, quality paving and may be safely used around pools, including salt water chlorinated.
Autumn Yellow Granite Crazy Paving is diamond sawn top and bottom, 25mm thick with random, free-form shapes and sizes. Some shaping or trimming may be required during the installation process.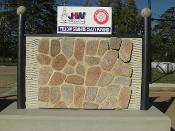 Light Yellow Granite Crazy Paving is available in sheets 510mm x 510mm x 25mm; ready to install.
Supplied with an exfoliated face for slip resistance, Light Yellow Granite Crazy Paving is suitable for paths, patios, verandahs, pool surrounds and driveways. It can also be used for wall cladding.
The shaping work is already done with the sheets fitting together by glue fixing onto a concrete base slab.
Once layed, the installer can choose a grout colour to compliment the Light Yellow Granite.
J.H. Wagner & Sons also provides CrAzY paving in Basalt. Other granite colours may be supplied by custom order.
View Exfoliated / Flamed granite colours.
Like to see more...
Return to Granite Products here.